The boys are back in town!
After the briefest of spells away from the top flight, Norwich City have strolled to Championship success and clinched promotion back to the Premier League.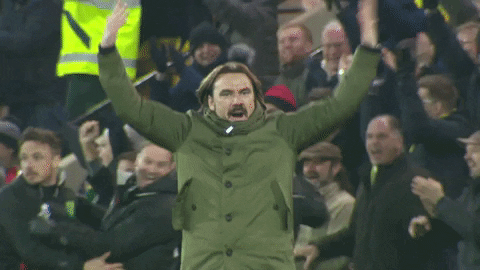 In fact, it's been so easy for the Canaries, that they were promoted before having even kicked a ball at the weekend!
Swansea City's inability to beat Wycombe Wanderers meant that Daniel Farke's men could take to the Carrow Road turf on Saturday evening, safe in the knowledge that no matter how much champagne they drank prior to kick-off, their fate would remain the same.
90 points from 41 games, while suffering only five defeats is incredibly good going. The unwavering faith in the manager and players has clearly paid off this season, but many Norwich supporters will remember their failed survival act of 2019/20 all too well.
They'll be hoping for better than the 21 points and stone-dead last-place finish that they had to show for their efforts last season, but what should we expect from the not-so-newcomers?
Well, consistency and faith have been the key words this year, having held onto their most talented individuals in the summer and destroyed all of the opposition. This group of players have stuck together through the hard times and come out the other side as better footballers, and a more effective team.
Lessons have clearly been learnt over the past two years by both the coach and his troops. Norwich have conceded 29 fewer goals in comparison to their title-winning side from 2018/19, showing an incredible growth in balance and strength all over the pitch.
That leaky defence was their ultimate downfall at Premier League level, and no amount of goals or attacking patterns could compensate for the stream of chances they surrendered week in, week out. That frailty has been superbly addressed in the last eight months, and the team as a whole has benefited greatly from it.
And so, a stronger defence takes the pressure off Teemu Pukki, Todd Cantwell and Emi Buendia from having to create and score hundreds of chances each game. Pukki's return to hitting the net has fired the Canaries to glory this year, but the ingenuity of Buendia has been the real catalyst behind their attacking success.
Keeping hold of that trio will be priority number one, two and three for Farke, while they may have learned from last year's decision not to recruit some serious competition or backup for their Finnish forward.
Pukki hit the ground running in the Premier League but tailed off massively, so plans should be in place to relieve the goal burden from the 31-year-old's shoulders this season. He can be the main threat, but there must be an Option B.
Overall, this Norwich side is a better, more tightly-knit and efficient team than the one that got soundly dispatched in 2019 and 2020, and they possess a manager who has hopefully learned from the mistakes made last time out.
With the right, canny investment and a positive attitude from the off, there is no reason why the Canaries can't compete in the Premier League next season. Survival was a dream back in 2020, but it must be a priority this time. No excuses, this group is ready.
Until then though, just enjoy the ride, Norwich fans!
Source :
90min